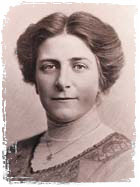 The Vision of a Young Girl
Helen Cadbury, the daughter of Richard Cadbury who ran the famous chocolate factory, became a Christian at the age of 16 in 1893. Helen always brought a pocket-sized New Testament with her to school and her friends were curious about the book she was reading. Helen simply shared her faith with them and started a movement.
Helen organised a group of girls who sewed pockets onto their dresses to carry the small New Testaments that her father provided. The girls named their group "The Pocket Testament League," pledging to read a portion of the Bible every day, to pray and to share their faith as God provided opportunities.
International Growth
The worldwide spread started when Helen met and married the American evangelist, Charles Alexander, in 1904. Charles caught Helen's vision and his experience in evangelism was instrumental to the work of encouraging Christians to read, carry and share God's word.
In 1914, an International Headquarters was opened in London and with the outbreak of the First World War, New Testaments were given to soldiers training on Salisbury Plain. These servicemen pledged to read a chapter each day and to carry it with them wherever they went. Thousands came to know Christ as Saviour and Lord through this early ministry.
The Mission Continues
In the 1950s and '60s, Billy Graham was a great encouragement, commenting,
"I am completely sold on the work of The Pocket Testament League, and continue to pray for those associated with it."
Today, we continue to support our sister organizations in other countries, but our main focus is on personal evangelism in the UK, encouraging Christians to share pocket Gospels and actively engage with those who have not yet heard about Christ.
Helen Cadbury Alexander died in 1969, but The Pocket Testament League and its members continue to share the gospel of Jesus Christ.  Millions of copies of the gospel have been given away since the start of this world-changing ministry.  All of this happened because one brave young woman had the vision to bring the Word of God to lost souls around her.
You can continue the legacy that began with Helen Cadbury. All it takes is a desire to share your faith. Join the Movement and help us reach even more people with the message of Christ